2008 Media Coverage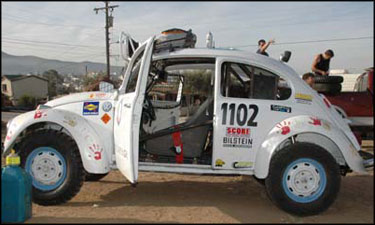 To Be Called "Racer": It's the highest honor, and the Baja 1000 finds them.
ESPN Magazine online, November 25, 2008
In motorsports, there is one word above all others that exemplifies what our twisted metal, burning rubber, death-defying pursuit is all about. The term is never used lightly and bestowed upon only those have earned the right to wear it. "Racer."
Desert Dingos provide hands-on diabetes lesson to school children
World Diabetes Day website, November 12, 2008
Desert Dingo Racing, the team who have entered the official World Diabetes Day race car in the Baja 1000 off-road race later this month, recently took the car to Holly Oak Elementary School in San Jose, California to give the children a hands-on lesson in desert racing. Students in Ms. Battistella's fourth grade class got the opportunity to add a little colour to the car, dipping their hands in red, blue or gold paint and pressing them to the car's fenders.
Baja Racers: Testing Man and Machine
Discovery Channel Magazine, November 2008
1,000 Reasons: Local bike, bug teams prep for Baja 1000 runs
Press Banner, November 7, 2008
Two experienced local teams are setting up for a run at the Baja 1000, the strenuous off-road race that kicks off Nov. 21 in Ensenada, Mexico.
Mount Hermon's Jeff Moore is joined by his brother, Pat, and two of Pat's friends from Elko, Nev., as the team attempts to win the 250-Plus Sportsman Class division riding their 2008 KTM EXCR450 motorcycle. The Moore brothers are coming off a June win in the Baja 500, the short version of the rugged off-road race, in which Pat fell from the bike and broke his collarbone, leaving Jeff to finish the final 200 miles without a switch.
From Race Cars and Google Doodles to Day Spas and Night Lights: Groups Across the U.S. Prepare to Join World Diabetes Day Celebrations Worldwide on November 14
BRUSSELS, Belgium, October 31, 2008 — Whether your tastes tend toward bright lights and big cities, quiet contemplation or off-road racing, groups around the U.S. are gearing up to celebrate World Diabetes Day and raise awareness of the growing threat of diabetes.
Desert Dingo Racing teams with GoPro to capture, upload video during Baja 1000
Press release, October 30, 2008
October 30, 2008, San Jose, Calif, – Desert Dingo Racing and GoPro have teamed to capture and broadcast high quality digital in-car video during the 41st Annual Baja 1000 offroad race in Mexico this November.
La diabetes sobre el tapete: La Federación Internacional de Diabetes alienta a los ciudadanos a aumentar la concientización y proteger a las futuras generaciones
El Sendero del Peje, 24 de Septiembre
BRUSELAS, Bélgica, /PRNewswire/ — La Federación Internacional de Diabetes anunció hoy que está convocando a grupos y a particulares de todo el mundo a involucrarse en actividades para concientizar sobre la diabetes en los 50 días previos al Día Mundial de la Diabetes, 14 de noviembre. El tema para la campaña de este año es "Diabetes en Niños y Adolescentes".
Bringing Diabetes to Light: International Diabetes Federation Encouraging Citizens to Raise Awareness and Protect Future Generations
PRNewswire, September 24, 2008
BRUSSELS, Belgium, September 24, 2008 /PRNewswire via COMTEX/ — The International Diabetes Federation announced today that it is calling on groups and individuals worldwide to get involved in activities to raise awareness of diabetes in the 50 days leading up to World Diabetes Day on November 14. The theme for this year's campaign is "Diabetes in Children and Adolescents."
WDD car raises diabetes awareness in Watsonville
World Diabetes Day website, July 3, 2008
Desert Dingo Racing teammates Richard Palasik and Jim Graham took the official World Diabetes Day Baja 1000 race car to the farming community of Watsonville (California, USA) on June 20 to support a diabetes health fair hosted by the Diabetes Health Center in Watsonville.
Submit Your 2008 ADA Queries Here
Diabetes Mine, June 3, 2008
… Desert Dingo Racing — Jim Graham and his diabetic Desert Dingo Racing team will make a Sunday appearance at San Francisco's famous Fisherman's Wharf. They'll be autographing "hero cards" featuring photos of their 1969 VW Beetle decorated with warning signs of diabetes on the back.
Flyin' along: Bug racers run their ride for diabetes cause
Press Banner, May 16, 2008
Richard Palasik and Charlie Reynolds, ran their 1969 VW Beetle — converted into a Baja off-roadster — for the cameras, at right, as their car has been chosen as the World Diabetes Day car for the Baja 1000. Photo courtesy of Jeffrey Jay Luhn
Local off-road racing team Desert Dingo Racing conducted a photo shoot at Bonny Doon Village airport on April 27.
The shoot was coordinated by Santa Cruz photographer Jeff Luhn, who used a boom pole extended from a truck driving alongside the car to shoot a picture that would appear to be from a helicopter.
The team's 1969 VW Beetle is the official World Diabetes Day car of the Baja 1000. The team did a driveathon fundraiser for the International Diabetes Federation as part of the 2007 Baja 1000 and plans to do the same again this year.
DONALDSON SUPPORTS DESERT DINGO RACING TEAM
Donaldson PowerCore® air cleaner provides air filtration for off-road racer
MINNEAPOLIS, MN – May 15, 2008 – Donaldson Company (NYSE:DCI), a leading, worldwide manufacturer of filtration systems and parts, is pleased to support Desert Dingo Racing with Donaldson PowerCore®. Desert Ding Racing is a team of high tech professionals based in Silicon Valley, California. Donaldson donated PSD PowerCore air cleaners for the team's Class 11 VW Beetle used in the Baja 1000, an annual international off-road race held in Mexico's Baja Peninsula.
Desert Dingo rides again on March 15
March 2008
Desert Dingo Racing will be riding again throughout 2008 to raise awareness of diabetes and World Diabetes Day. The team consist of professionals based in Silicon Valley, California. They have come together to drive diabetes awareness by competing in desert racing in their World Diabetes Day branded Class 11 Volkswagen Beetle.
dLife
TV feature on Desert Dingo "racing for diabetes"
January 20, 2008
Diabetes Hoy
January 2008